First Aid Kits, Medical Kits and Survival Kits for Sale
Shop Camp Live offers first aid kits and medical supplies for sale that are specifically made for camping and backpacking. Designed for medical emergencies when on or off the trail, these kits, assembled by emergency survival experts, contain everything from blister prevention to hospital-grade emergency wound care. Whether you are shopping for a first aid kit for the car, searching for a high-performance just-in-case kit, or just running wild outdoors, buy your camping and backpacking medical gear here.
World Travel First Aid Kits for Sale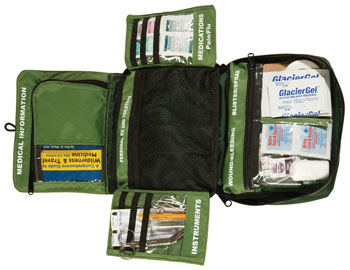 World Travel First Aid Kit
$64.95
Adventure Medical
World Travel First Aid Kits for sale are specifically designed for use in remote locations and for travelers on the go. They include some of the medical supplies needed when medical assistance is not close by making these ideal for backpacking, camping and travelling. These first aid kits measure a compact 8 by 8.5 by 3.75 inches and include a TSA-approved 3-1-1 bag for liquids. They weigh 1 pound 12 ounces. The World Travel First Aid kit is made by Adventure Medical. These kits feature a number of wound care supplies and a number of medications used to cure popular travel ailments such as stomach discomfort, pain, dehydration and allergies. These kits also include wound care essentials and wraps and bandages to support fractures and sprains. Adventure Medical had travelers in mind when creating this kit; it even features die-cut Moleskin and GlacierGel™ hydrogel bandages to prevent blisters. The World Travel First Aid Kits feature a generous amount of space in the bag where you can store additional medications. They also feature a medical-themed Visual Communication Tool that enables you to communicate while facing a language barrier. The World Travel First Aid kit includes a comprehensive medical guide with information on how to use the components of the kit, illustrations and general medical travel advice.
First Aid and medical supplies included with the World Travel are as follows (contents may vary slightly):
Bandage Materials
10 - Bandage, Adhesive, Fabric, 1" x 3"
4 - Bandage, Adhesive, Fabric, Knuckle
1 - Bandage, Conforming Gauze, 2"
3 - Dressing, Gauze, Sterile, 2" x 2", Pkg./2
3 - Dressing, Gauze, Sterile, 4" x 4", Pkg./2
2 - Dressing, Non-Adherent, Sterile, 3" x 4"
Bleeding
1 - Gloves, Nitrile (Pair), Hand Wipe
1 - Trauma Pad, 5" x 9"
1 - Orange 2" x 2" Biohazard Label
1 - 5" x 8" Ziplock Baggie
Blister / Burn
1 - GlacierGel (Large Oval)
1 - GlacierGel (Small Rectangular)
1 - Moleskin, Pre-Cut & Shaped (14 pieces)
Instrument
1 - Pencil
3 - Safety Pins
1 - Bandage Scissors with Blunt Tip
1 - Splinter Picker/Tick Remover Forceps
2 - Thermometer, Disposable
1 - 6" x 8" Bag, Plastic
Medical Information
1 - Comp. Guide to Wilderness & Travel Medicine
1 - Patient Assessment Form
1 - Visual Communication Tool
Medication
4 - Acetaminophen (500 mg), Pkg./2
4 - Antacid, Pkg./2
4 - Antihistamine (Diphenhydramine 25 mg)
2 - Oral Rehydration Salts
2 - Cold Medicine, Medicidin-D, Pkg./2
6 - Diamode (Loperamide HCI 2 mg), Pkg./1
4 - Diotame (Bismuth Subsalicylate), Pkg./2
4 - Ibuprofen (200 mg), Pkg./2
Other
2 - Bottle, Plastic, 2oz.
1 - Plastic Vial, Flip-top, Small
Wound Care
6 - Antiseptic Wipe
2 - Cotton Tip Applicator, Pkg./2
1 - Povidone Iodine, 3/4 oz
1 - Syringe, Irrigation, 10 cc, 18 Gauge Tip
1 - Cloth Tape, 1/2" x 10 Yards
2 - Skin Tac™ Topical Adhesive Wipe
3 - Triple Antibiotic Ointment, Single Use
1 - Wound Closure Strips, 1/4" x 4", Pkg./10