Camping Cookware, Portable Stoves and Water Filtration Systems for Sale
ShopCampLive.com offers camping cookware, portable stoves and water filtration gear for sale. From comfort camping items like Esbit Coffee Makers to essential Katadyn water purification kits, be prepared for your next outdoor adventures and camping trips. Buy your campfire cooking and be ready to camp right.
ETA Lite Stove - All-In-One Gas Stoves for Sale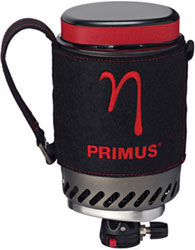 ETA Lite Stove - All-In-One Gas Stove
$99.95


ETA Lite Camping Stove for sale is an all in one gas cooking unit. The 1500 watt, 4500 BTU output burner uses ETA technology to maximize fuel efficiency during cooking. The ETA Lite stoves have a burn time of 59 min on 100 g and a boiling time of 2.45 minutes for approximately 2 cups. Made by Primus, these stoves also feature Laminar Flow Burner Technology that provides the stove a lower burner, creating a more stable, lightweight and compact stove. The ETA Lite Camping Stove is manufactured by Primus and features a Piezo igniter which means matches are not essential. These compact camping stoves measure 5.9 inches with a 3.94 inch diameter. The ETA Lite features a locking mechanism that makes the stove sturdier and easy to use, even with gloves. The ETA Lite has a foot support for additional stability on uneven surfaces. They include a heat resistant case with safety strap that allows the stove to be suspended. These camping stoves are rated for three seasons and they weigh 12.5 ounces. The gas cartridge is not included. For a lightweight cooking solution for one, buy the ETA Lite Camping Stove for $99.95.
Need Assistance? Contact Our Support Team Via Email 24/7

© 2014-2021 ShopCampLive.com - All Rights Reserved