First Aid Kits, Medical Kits and Survival Kits for Sale
Shop Camp Live offers first aid kits and medical supplies for sale that are specifically made for camping and backpacking. Designed for medical emergencies when on or off the trail, these kits, assembled by emergency survival experts, contain everything from blister prevention to hospital-grade emergency wound care. Whether you are shopping for a first aid kit for the car, searching for a high-performance just-in-case kit, or just running wild outdoors, buy your camping and backpacking medical gear here.
Sportsman Grizzly Survival First Aid Kit s for Sale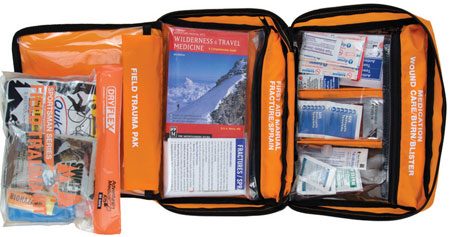 Sportsman Grizzly Survival First Aid Kit
$99.95
Adventure Medical
Sportsman Grizzly Survival Kits for sale feature essential supplies for administering first aid while awaiting professional help. They are specifically designed to meet the most frequent injuries when hunting, fishing and camping. Manufactured by Adventure Medical, these emergency survival kits are 11 by 8 by 3 inches. They weigh 2 pounds 6 ounces. The first aid supplies are rated for a group size of one to fourteen people with a trip duration rating of one to fourteen days. The Sportsman Grizzly Survival Kits include first aid supplies for fracture splinting and fish hook removal. There are also supplies to treat penetration wounds and to help stop heavy bleeding such as QuikClot, Swat-T tourniquet and trauma pads and an irrigation syringe to clean wounds. There is a waterproof, removable Field Trauma Pak that contains QuikClot, Swat-T tourniquet and a variety of other medical supplies. The Field Trauma Pak allows you to take this smaller first aid kit into the field and leave the large kit at base camp. These first aid kits include an assortment of medications to relieve pain, inflammation and common allergies. Wraps and bandages are included to help immobilize and help support fractures and sprains. It is better to have an emergency medical kit than to need one. For first aid in the field, buy the Sportsman Grizzly Survival Kits for $99.95.
Included First Aid Supplies (Items may be added, substituted or deleted if necessary):
First Aid Bandage Materials
9 - Bandage, Adhesive, Fabric, 1" x 3"
7 - Bandage, Adhesive, Fabric, Knuckle
2 - Bandage, Conforming Gauze, 3"
1 - Bandage, Elastic, Self Adhering, 2"
3 - Dressing, Gauze, Sterile, 2" x 2", Pkg./2
3 - Dressing, Gauze, Sterile, 4" x 4", Pkg./2
2 - Dressing, Non-Adherent, Sterile, 3" x 4"
Bleeding
1 - Gloves, Nitrile (Pair)
1 - Irrigation Syringe, 20 cc with an 18 Gauge Tip
Burn Relief and Blister Care
14 - Pre-Cut and Shaped Moleskin
CPR
1 - Instructions, Easy Care CPR
1 – CPR Mask for protected mouth-to-mouth resuscitation
Duct Tape
1 - Duct Tape, 2" x 50"
Immobilize and support Fractures and Sprains
1 - C-Splint™, 4" x 36"
1 - Cohesive Elastic Bandage, 2"
1 - Elastic Bandage with Velcro, 3"
2 - Triangular Bandage
1 – Instructions on Easy Care for Fractures and Sprains
Medical Information
1 - Comp. Guide to Wilderness & Travel Medicine
Instruments
3 - Disposable Thermometer
Medication
4 - After Bite Wipe
4 - Antihistamine (Diphenhydramine 25 mg)
2 - Aspirin (325 mg), Pkg./2
4 - Diamode (Loperamide HCI 2 mg), Pkg./1
5 - Ibuprofen (200 mg), Pkg./2
1 - Instructions, Easy Care Medications
Wound Care
8 - Antiseptic Wipe
1 - Package of Two Cotton Tip Applicators
1 - Instructions, Easy Care Wound
2 - Skin Tac Topical Adhesive Wipes
1 - Irrigation Syringe, 20 cc, 18 Gauge Tip
1 - Tape, 1" x 10 Yards
4 - Single Use Triple Antibiotic Ointment
1 – Package of Ten Wound Closure Strips, 1/4" x 4",
1 - Register Your Kit card
2 - Orange Biohazard Label 2" x 2" 2 - Ziplock Baggie 5" x 8"
1 - Povidone Iodine 3/4 oz
Removable Field Trauma Pack Contains:
3 – Package of Two Sterile Gauze Dressing, 4" x 4"
2 - Gloves, Nitrile (Pair)
1 - Instructions, Easy Care Bleeding
1 - QuikClot Sport 25g
1 - Trauma Pad, 5" x 9"
1 - Trauma Pad, 8" x 10"
14 - Pre-Cut and Shaped Moleskin
1 - CPR Face Shield
1 - EMT Shears, 4" 3 - Safety Pins
1 - Splinter Picker/Tick Remover Forceps
1 – Pencil
1 - Accident Report Form
1 - Aspirin (325 mg), Pkg./2 2 - Ibuprofen (200 mg), Pkg./2
4 - Antiseptic Wipe
1 - Dressing, Petrolatum, 3" x 3" 1 - Swat-T™ Tourniquet
1 - Orange 2" x 2" Biohazard Label 1 - 5" x 8" Ziplock Baggie