Camping Tents, Tactical Tents, Tactical Shelters and Cabin Tents for Sale
ShopCampLive.com offers tents and shelters for sale from tactical all weather tarps to tents from Eureka. Prepare for outdoor adventures and camping trips with high performance fly first pitch type tent. Snugpak, an industry leader in high performance shelters and tents offers exceptional protection specifically designed for military and tactical use. Buy the right shelter, tarp or tent for your camping needs.
Scorpion 2 Coyote Tents for Sale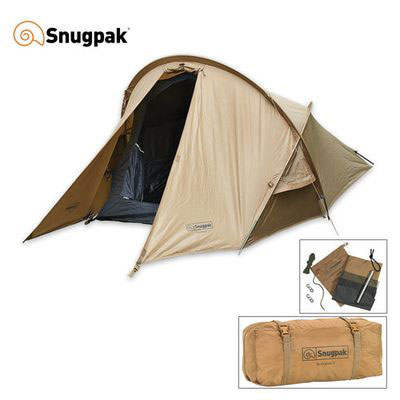 Scorpion 2 Coyote Tents
$319.95


Scorpion 2 Tactical Tents for sale are made for military operations and tactical use. The fly-first pitch type tent design means the fly is pitched first and is considered the main structure; the tent then attaches from the inside to the fly. The concept for this design grew from theory that the fly could be quickly erected and pitched. While under the shelter, the user could then decide to use the tent or not, while remaining protected from the elements. The concept was also popular with the military. While on patrol, a soldier could erect only the fly for protection from the weather. Once the weather clears, the troops could just pack up the fly and move on. The fly is made of fire retardant, highly durable, lightweight 210t polyester RipStop with a 5000mm waterproof polyurethane coating. This extraordinary material protects the occupant from serious foul weather conditions. The fire retardant floor is made of 190t nylon. The fire retardant inner tent is constructed of 190t nylon with polyester mesh. The polyester mesh used in the Scorpion 2 is 50d polyester no-see-um. Snugpak uses a fixed ground sheet and taped seams for additional protection. The Scorpion 2 features DAC Featherlite NSL anodized poles with pressfit connectors. All of the DAC poles are crafted from TH72M aluminum. The Scorpion 2 is much more than just a tent. They are tactical shelters that feature one door and three vents for added comfort. Designed for long lasting use, these tents include a basic repair kit for field repairs. The shelter weight is 3.8 pounds, trail weight is 4.93 pounds. The Scorpion 2 has a pack weight of 5.83 pounds and a pack size of 17 inches by 7.5 inches. Snugpak has created truly tactical performance shelters. Buy the Scorpion 2 tents for $319.95.
Need Assistance? Contact Our Support Team Via Email 24/7

© 2014-2021 ShopCampLive.com - All Rights Reserved