Camping Cookware, Portable Stoves and Water Filtration Systems for Sale
ShopCampLive.com offers camping cookware, portable stoves and water filtration gear for sale. From comfort camping items like Esbit Coffee Makers to essential Katadyn water purification kits, be prepared for your next outdoor adventures and camping trips. Buy your campfire cooking and be ready to camp right.
Vargo Titanium 1.3 Liter Camping Pots for Sale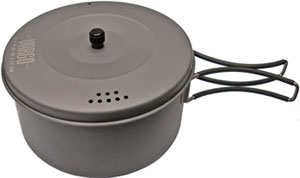 Titanium 1.3 Liter Camping Pot
$79.95
Vargo

Titanium 1.3 Liter Pots for sale features ultra lightweight construction which makes them an ideal tool for cooking when portability is a necessity. These pots feature a 44 ounce capacity but weigh only 5.4 ounces, meaning this Vargo titanium pot weighs nearly half of most of the 1.3 liter capacity competition. The 6.2 inch diameter and 3.5 inch height means this pot is large enough to offer great cooking versatility for camping and backpacking. The large size also means these Vargo Titanium 1.3 Liter Pots offer better heat distribution, storage and fully functional cooking options. The premium titanium used in the construction of these pots is what makes all of these features possible. Vargo uses solid, fine quality titanium that results in this exceptionally lightweight, well-built, corrosion-resistant and biocompatible line of cookware. This pot features built-in coated foldaway handles which both help to prevent burns and provides an outstanding hold when cooking and eating. They also feature the snug fitting Vargo original strainer lid which has an easy to grip heat resistant knob designed to make cooking simpler. These lightweight titanium pots also feature an indented bottom which offers an increased level of stability and a nylon mesh storage bag. The large size capacity and the lightweight reliable construction make this titanium pot the perfect companion for cooking on the go.
Need Assistance? Contact Our Support Team Via Email 24/7

© 2014-2021 ShopCampLive.com - All Rights Reserved