Camping Knives, Survival Knives, Ropes and Fire Starters for Sale
Shop Camp Live offers survival knives and rope for sale from some of the most popular manufacturers of survival equipment. Many of these items are essential when camping and backpacking. We also offer new items from the Bear Grylls outdoor survival series of camp necessities. Whether you are shopping for a 200 foot rappelling rope, a new survival knife or just running wild outdoors, buy your camping and backpacking gear here.
Bear Grylls Survival Bracelets for Sale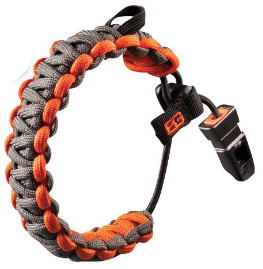 Bear Grylls Survival Bracelet
$14.95


Bear Grylls Survival Bracelets for sale are constructed of 12 feet of high-strength, nylon paracord. The size of the bracelet can be adjusted using only one-hand via a user-friendly cinch system that keeps it tight. This simple to adjust system makes the Bear Grylls Survival Bracelet a one-size fits most emergency solution. The bracelet has an integrated survival whistle for emergency signaling. The Bear Grylls Survival Bracelet weighs just 0.98 ounces meaning it will not weigh you down on the trail or in an emergency. The bracelet measures 11.5 inches overall. These bracelets include a copy of Bear Grylls Pocket Guide, the Priorities of Survival. Even though they are designed for everyday use, they are also there for you in an emergency. Be ready, be prepared and buy the Bear Grylls Survival Bracelets for $14.95.
Need Assistance? Contact Our Support Team Via Email 24/7

© 2014-2021 ShopCampLive.com - All Rights Reserved