Camping Tents, Tactical Tents, Tactical Shelters and Cabin Tents for Sale
ShopCampLive.com offers tents and shelters for sale from tactical all weather tarps to tents from Eureka. Prepare for outdoor adventures and camping trips with high performance fly first pitch type tent. Snugpak, an industry leader in high performance shelters and tents offers exceptional protection specifically designed for military and tactical use. Buy the right shelter, tarp or tent for your camping needs.
Apex Solo Tent for Sale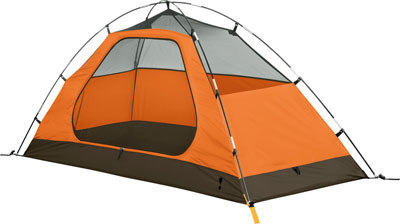 Apex Solo Tent
$99.95


Apex Solo Tents for sale are designed for one camper for use in less demanding conditions. These light weight tents are ideal for novice or occasional wilderness campers and backpackers. Manufactured by Eureka, they have a two pole dome style and a fiberglass frame post and grommet assembly that makes set up easy. They have a unique fly pattern. In wet weather, this design provides protection. In fair conditions, rotate it 180 degrees for easier tent access. The fly has vestibule wings that create a protected exterior storage space while sheltering the doors from the elements. These tents feature extensive interior pocketing including two storage pockets, a gear loft (or gear hammock) with two loft loops and a flashlight loop. The Apex Tents by Eureka are three season tents, sleep one camper and have a center height of 3 feet. There is one door and a vestibule that measures 14.8 square feet. The hooded vent in the fly and mesh panels on the side help to maintain comfortable ventilation while keeping the camper protected from the elements and bugs. These backpacking tents have a system of vectored fly-to-tent body pullouts. This system increases stability while enhancing ventilation. By maintaining the gap between the tent body and the fly excellent air circulation is achieved. The sidewalls feature both coated and uncoated polyester taffeta and mesh which increases ventilation, reduces condensation and provides visibility when the fly is not being used. Both the floor and the fly are crafted of 75-denier 800mm coated polyester taffeta. To protect against standing or splashing water, these tents have a bathtub style floor that wraps up the sides of the tent. The floor size is 7 feet 6 inches by 2 feet 8 inches. It offers one camper 20 sq ft of tent area in a pack size of 5 inches by 16 inches with a minimum weight of 4 pounds 3 ounces. Terrific for light camping or backpacking, buy the Apex Solo One Person Tent for $99.95.
Need Assistance? Contact Our Support Team Via Email 24/7

© 2014-2021 ShopCampLive.com - All Rights Reserved