Camping Tents, Tactical Tents, Tactical Shelters and Cabin Tents for Sale
ShopCampLive.com offers tents and shelters for sale from tactical all weather tarps to tents from Eureka. Prepare for outdoor adventures and camping trips with high performance fly first pitch type tent. Snugpak, an industry leader in high performance shelters and tents offers exceptional protection specifically designed for military and tactical use. Buy the right shelter, tarp or tent for your camping needs.
B.A.S.E. Bug Tents for Sale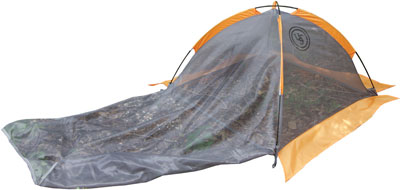 B.A.S.E. Bug Tents
$29.95


B.A.S.E. Bug Tents for sale are compatible with most sleeping bags and mats. Ideal for tactical backpacking and camping, they are compact and easy to use and set up. The bottomless design allows the bug tent to be used with virtually any sleeping bag or mat and replaces the need to carry a cumbersome tent. The B.A.S.E. bug tents are flame retardant and use shock-corded fiberglass poles which provide for speedy and easy set up. These pack compactly in the included stuff sack and weigh only 20 ounces. They are designed for use by one camper. These light weight bug tents are from the B.A.S.E. Series. They are made by Revere Supply an industry leader in survival gear as part of their line of Ultimate Survival Gear which is made for tactical camping and backpacking. These tents measure 21 inches by 34 inches by 72 inches. They have packed dimensions of 16.5 inches by 4 inches by 3 inches. These tents offer well-vented sleeping without bugs including no-see-ums. Buy these B.A.S.E. Bug Tents for tactical camping and backpacking for only $29.95.
Need Assistance? Contact Our Support Team Via Email 24/7

© 2014-2021 ShopCampLive.com - All Rights Reserved