Sleeping Bags and Sleeping Mats for Sale
ShopCampLive.com offers sleeping bags and sleeping mats for sale for tactical extreme weather use. Prepare for outdoor adventures and serious camping trips with high performance sleeping bags from Snugpak, like the Softie Series, the Sleeper Series and Special Forces bivvy bags. Try out Multimats tactical line of foam and self-inflating sleep mats. Buy this tactical and high performance sleeping gear for comfortable camping.
Snugpak Sleeper Lite Mummy Style Sleeping Bags for Sale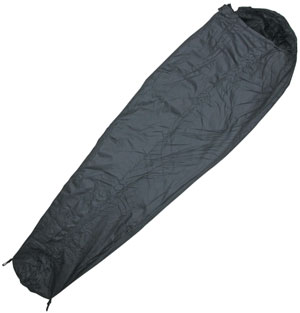 Snugpak Sleeper Lite Mummy Style Sleeping Bags
$69.95


Sleeper lite Mummy Sleeping Bags for sale are made by Snugpak. These black colored bags are manufactured of high performance materials and ideal for military operations and tactical use. They have a mummy design with a snugfit hood. They are 86 inches long with a 60 inch chest and weigh 56 ounces. They have a pack size of 9 inches by 9 inch. The Sleeper Lite features Siliconized Hollowfibre, a synthetic fiber fill that is designed to block warm air in tiny cavities in the fiber. When the sleeping bags are unpacked, the hollow fibers decompress and stretch to gain the maximum amount of re-loft. The outer layer is made of heavy duty nylon Ripstop. The inner lining is crafted of Supersoft, a silky smooth nylon fabric. The Sleeper Lite includes a compression stuff sack. They have an anti-snag, two way zipper with a zip baffle. They also feature hang dry tabs. These tactical high performance sleeping bags are comfortable at 32F degrees with a low of 18F degrees. These temperature ratings are based on experience and feedback and assume the user is sleeping lightly clothed, in a tent or sleeping mat. Therefore, individual temperature preferences may vary per person. For a high performance compressible sleeping bag, buy the Black Sleeper Lite Mummy Style by Snugpak for $69.95.
Need Assistance? Contact Our Support Team Via Email 24/7

© 2014-2021 ShopCampLive.com - All Rights Reserved