Camping Cookware, Portable Stoves and Water Filtration Systems for Sale
ShopCampLive.com offers camping cookware, portable stoves and water filtration gear for sale. From comfort camping items like Esbit Coffee Makers to essential Katadyn water purification kits, be prepared for your next outdoor adventures and camping trips. Buy your campfire cooking and be ready to camp right.
Sawyer All-in-One Water Filtration Kits for Sale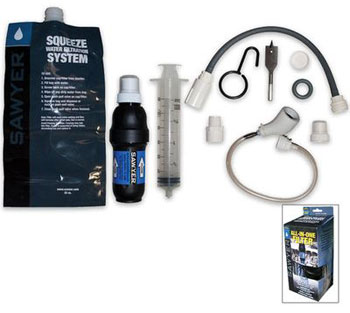 Sawyer All-in-One Water Filtration Kit
$69.95


All in One Filter Kit for sale is made by Sawyer and includes the incredible PointONE 0.10 Absolute Micron Water Filter. The Sawyer 0.1 Micron Absolute Filter exceeds EPA standards for the removal of cysts, bacteria and protozoa. The PointONE filter removes 99.99999% of all bacteria, such as salmonella, cholera and E.coli; removes 99.9999% of all protozoa, such as giardia and cryptosporidium. This versatile water filtration device can be used in several ways. You can attach the Sawyer All-in-One Filter to the included 32 ounce BPA free Mylar pouch to use with any bucket you have for high volume potable water. You can also fill up the pouch at a fresh water source, screw the filter on and squeeze the bag to filter water into your water bottle. The advanced squeeze filter design fills most regular size water bottles in only 20 sec. The filter also has a built-in push/pull cap, designed so you can drink directly from the filter. You can attach the filter to the included faucet adapter to filter water straight from almost any household faucet. The Sawyer All-in-One water filters are hydration pack compatible meaning they are made to attach to most hydration packs. Install the filter directly inline on your hydration pack to fill it with clean water. These are also popular as an emergency preparedness product. Sawyer pouches are designed to be rolled or squeezed to enjoy a fast flow rate for drinking. The size and weight makes them ideal for backpacking and camping. This water filtration device is both low cost and high volume, rated for one million gallons without chemicals. When drinking water is not available, use these for up to 540 gallons of clean water per day. No replacement filters or cartridges are necessary. The convenience of these gravity filtration products means a pump is no longer necessary. Using science and rigorous testing, these Sawyer products are some of the most advanced and easy to use water treatment solutions. The Sawyer All-in-One Kit contains a syringe to back-flush the filter to maintain the filter in the field as well as to promote a high-flow rate. This set also includes the Sawyer PointONE filter, a 32 ounce pouch, 2 pop-up drinking spouts, a bucket adapter kit, a faucet adapter, a filter cleaner, a filter hanger, installation, cleaning, and maintenance instructions. For fast clean drinking water, buy the Sawyer-All-In-One for $69.95.