First Aid Kits, Medical Kits and Survival Kits for Sale
Shop Camp Live offers first aid kits and medical supplies for sale that are specifically made for camping and backpacking. Designed for medical emergencies when on or off the trail, these kits, assembled by emergency survival experts, contain everything from blister prevention to hospital-grade emergency wound care. Whether you are shopping for a first aid kit for the car, searching for a high-performance just-in-case kit, or just running wild outdoors, buy your camping and backpacking medical gear here.
Tactical Field Trauma Kits for Sale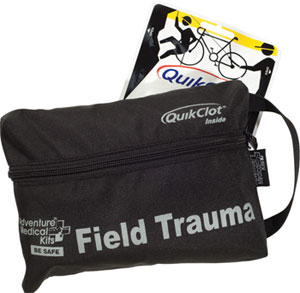 Tactical Field Trauma Kit
$44.95
Adventure Medical
Tactical Field Trauma Kit with QuikClot for sale features essential supplies for administering first aid in the field while awaiting professional help. They are designed to be compact enough to carry in a daypack while backpacking and camping. Manufactured by Adventure Medical, these emergency survival kits are only 7 by 4.5 by 6 inches. They weigh only 1 pound. The first aid supplies are rated for a group size of one to four people and trip duration of one to four days. The Field Trauma Kit features a 25g QuikClot Sport Sponge designed to stop bleeding quickly while away from camp. For cleaning and closing smaller wounds, the Field Trauma Kit also contains antiseptic wipes and butterfly bandages as well as Nitrile examination gloves and a biohazard disposal bag. The set includes petrolatum gauze which promotes healing without adhering to deep puncture wounds. These first aid kits include an assortment of medications to relieve pain, inflammation and common allergies. Wraps and bandages are included to help immobilize and help support fractures and sprains. It is better to have an emergency medical kit than to need one. For first aid in the field, buy the Tactical Field Trauma Kit with QuickClot for $44.95.
Bandage Materials
4 - Bandage, Adhesive, Fabric, 1" x 3"
3 - Bandage, Adhesive, Fabric, Knuckle
2 - Bandage, Butterfly Closure
1 - Bandage, Elastic, Self Adhering, 2"
2 - Dressing, Gauze, Sterile, 2" x 2", Pkg./2
2 - Dressing, Gauze, Sterile, 4" x 4", Pkg./2
1 - Dressing, Non-Adherent, Sterile, 3" x 4"
Bleeding
2 - Gloves, Nitrile (Pair), Hand Wipe
1 - QuikClot Sport 25g
2 - Trauma Pad, 5" x 9"
Blister / Burn
11 - Moleskin, Pre-Cut & Shaped (11 pieces)
Instrument
3 - Safety Pins
1 - Splinter Picker/Tick Remover Forceps
Medical Information
1 - Comp. Guide to Wilderness & Travel Medicine
Medication
1 - After Bite Wipe
2 - Antihistamine (Diphenhydramine 25 mg)
1 - Aspirin (325 mg), Pkg./2
2 - Ibuprofen (200 mg), Pkg./2
Wound Care
8 - Antiseptic Wipe
1 - Dressing, Petrolatum, 3" x 3"
1 - Tape, 1/2" x 10 Yards
2 - Triple Antibiotic Ointment, Single Use