Hammocks, Rainfly's and Mosquito Nets for Sale
Shop Camp Live offers hammocks, rainfly's and mosquito nets for sale from some of the most popular manufacturers. These items are designed to provide a more comfortable experience when camping and backpacking. Whether you are shopping for a cozy Hennessy Hammock, preparing for combat against mosquitoes or just running wild outdoors, buy your camping essentials here.
Large Jungle Mosquito Nets for Sale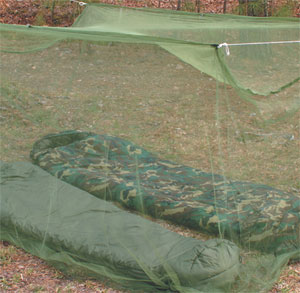 Large Jungle Mosquito Net
$34.95


Jungle Mosquito Nets for sale are made by Snugpak. They are extremely portable and lightweight. These large nets include a hanging kit and a stuff sack. These versatile nets can be hung as a single or a two point wedge, a two point ridge or a four point rectangle. The large size Jungle Mosquito Nets measure 63 by 79 by 59 inches. It weighs only 10 ounces meaning this lightweight compact net is great for backpacking or camping. The Jungle Mosquito Net is designed to fit over a double cot. The double strength valance with tent peg loops makes the Jungle Mosquito Net ideal for outside use with sleeping bags or sleeping pads. As suggested by the World Health Organization, these nets are treated with Deltamethrin, which supplies additional protection against insect borne diseases like Encephalitis, Malaria and Dengue Fever. For protection when sleeping or camping outside, buy the Large Jungle Mosquito Net for $34.95.
Need Assistance? Contact Our Support Team Via Email 24/7

© 2014-2021 ShopCampLive.com - All Rights Reserved