Camping Tents, Tactical Tents, Tactical Shelters and Cabin Tents for Sale
ShopCampLive.com offers tents and shelters for sale from tactical all weather tarps to tents from Eureka. Prepare for outdoor adventures and camping trips with high performance fly first pitch type tent. Snugpak, an industry leader in high performance shelters and tents offers exceptional protection specifically designed for military and tactical use. Buy the right shelter, tarp or tent for your camping needs.
B.A.S.E. Series Tactical Hex Tarps for Sale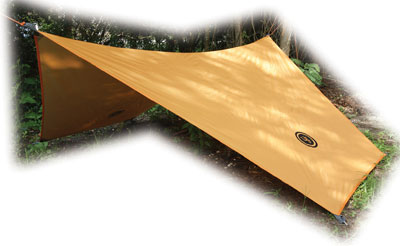 B.A.S.E. Series Tactical Hex Tarps
$39.95


B.A.S.E. Series Tactical Hex Tarps for sale offer versatile protection from the elements in a compact size. They are lightweight at only 1 pound 8 ounces and are ideal for tactical backpacking and camping. They measure 108 inches by 96 inches by 41 inches and are designed for single person use. They feature a compact pack size of only 10 inches by 4 inches by 4 inches. These B.A.S.E. (Basic Adventure Survival Essential) Hex Tarps are crafted of polyester with an aluminized lining. The aluminized lining provides a reflective emergency signal and thermal insulation. The reverse side of the Hex Tarp is a highly visible orange color. This tarp can be used for shelter, as a thermal blanket, used as a bivy, spread out as a ground cover or used as an emergency signal. This tactical all weather package includes the Hex Tarp, guy lines, stakes and a stuff sack. These light weight tarps are from the B.A.S.E. Series. They are made by Revere Supply an industry leader in survival gear as part of their line of Ultimate Survival Gear. Buy these versatile Hex Tarps for tactical backpacking and camping for $39.95.
Need Assistance? Contact Our Support Team Via Email 24/7

© 2014-2021 ShopCampLive.com - All Rights Reserved