Camping Cookware, Portable Stoves and Water Filtration Systems for Sale
ShopCampLive.com offers camping cookware, portable stoves and water filtration gear for sale. From comfort camping items like Esbit Coffee Makers to essential Katadyn water purification kits, be prepared for your next outdoor adventures and camping trips. Buy your campfire cooking and be ready to camp right.
Stainless Steel Coffee Makers for Sale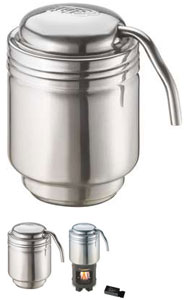 Stainless Steel Coffee Maker
$49.95
Esbit
Stainless Steel Coffee Maker for sale is made by Esbit. This attractive, stainless steel coffee maker is a beautiful and practical tool for both coffee and camping aficionados. The high quality stainless steel construction has a one cup capacity. The Esbit Stainless Steel Coffee Maker features a fine coffee filter and a safety valve. These coffee makers offer a small pack size which makes them the perfect companion for backpacking and camping. The black stainless steel stove stand can be stored in the body of the Esbit Coffee Maker adding an increased level of portability. These also include a flame extinguisher and a solid fuel tablet tray. The Esbit Stainless Steel Coffee Maker uses two Esbit Solid Fuel Tablets which are not included. All of the components of the coffee maker can be stored in the included black mesh storage bag which has a drawstring closure. They weigh only 10.6 ounces and include two extra pads for the stove stand. For the perfect cup of coffee while camping, backpacking or anywhere outdoors, buy the beautiful Esbit Stainless Steel Coffee Maker for $49.95.
Need Assistance? Contact Our Support Team Via Email 24/7

© 2014-2021 ShopCampLive.com - All Rights Reserved