Camping and Hiking Gear, Rucksaks, Gearpacks and Backpacks for Sale
Shop Camp Live offers rucksacks, gearpacks and backpacks for sale are from some of the most popular manufacturers. They are designed to provide functional and comfortable ways to carry gear while camping and backpacking. From Maxpedition, Snugpak, 5.11 Tactical and others, these bags are filled with organizational pockets and pouches to make finding your gear easy. For hauling survival essentials when you are running wild outdoors, buy your gear here.
Maxpedition Kodiak S-Type Gearslingers for Sale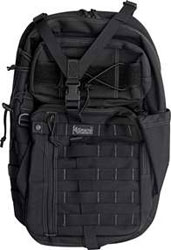 Maxpedition Kodiak S-Type Gearslinger
$149.95


Maxpedition Kodiak S-Type Gearslingers for sale combine the cargo capacity of a traditional backpack with the flexibility of a slingbag. These S-Type is specifically designed for a left side carry. These ergonomic bags feature fixed single-strap construction which means they can be rapidly rotated 270 degrees and positioned at the front of the body. This design offers comfortable and comprehensive access to the pockets of the Gearslinger while standing or sitting. The Kodiak is from the series of Maxpedition Gearslinger backpacks that is designed to carry lots of gear while supplying an ergonomic comfortable left side carry. Maxpedition backpacks have numerous compartments, pouches and pockets. The Kodiak S-Type can carry a cargo capacity of up to 1380 cu in, 22.6L. These single-strap backpacks can also fit up to a 15.4 inch laptop. The Kodiak S-Type Gearslinger has overall dimensions of 13.5 by 7.5 by 20 inches and can be unzipped for a full clamshell opening. There is an additional storage compartment in the waist pad that measures 4 by 5 inches and features two rows of PALS (Pouch Attachment Ladder System) webbing, a feature that Maxpedition is renowned for incorporating into their designs. There are also seven rows of PALS webbing on the shoulder strap. The Kodiak S-Type has an ergonomically designed, integrated three inch shoulder strap which has a two inch quick release button and a metal spring clip. For additional ergonomics and comfort when wearing, the Maxpedition Kodiak Gearslingers have a concealed sternum strap crafted of .75 inch webbing which features a distress whistle buckle. Kodiak S-Type Gearslinger backpacks are crafted of 1000D water resistant and abrasion resistant light-weight ballistic nylon fabric. They have a triple polyurethane coating which provides water resistance. These heavy duty single shoulder backpacks feature a Teflon fabric protector that helps guard against grime and makes the Kodiak S-Type Gearslinger easier to clean and maintain. For additional durability, these versatile backpacks have taped and finished internal seams. They also have double stitched stress points with bar-tacked or Box-and-X stitching for additional strength. The Maxpedition Kodiak S-Type Gearslinger Backpacks have AS-100 high grade closed-cell foam padding material that supplies exceptional shock protection. The UTX-Duraflex nylon buckles offer low sound closures. These backpacks have high strength, self-repairing YKK zippers and zipper tracks and feature Paracord zipper pulls. Maxpedition Kodiak S-Type Gearslinger Backpacks have high tensile strength nylon webbing. High tensile strength composite nylon thread is more durable than regular industry standard nylon thread. For a versatile single shoulder bag with exceptional durability and lots of space for gear, buy the Maxpedition Kodiak S-Type Gearslinger Backpacks for $149.95.
Maxpedition Kodiak S-Type Gearslinger Backpacks typically feature the following specifications:
Exterior Front
Y-compression strap made from 1 inch webbing
One - 9.5 inch by 2 inch loop field for patches
One - 9 inch by 2 inch by 4.5 inch zippered pouch
One - 9 inch by 3 inch internal slip pocket
One - 9.5 inch by 10.5 inch external horizontal zippered
pocket with Button-Lock™ security strap
One - 10 inch by 10.5 inch by 2 inch zippered pouch
One - 10.5 inch by 7 inch internal horizontal
see-through plastic slip pocket
One - 8 inch by 6.5 inch internal horizontal slip pocket
One - 13 inch by 8 inch internal horizontal slip pocket
Sleeve and bungee cord retainer
5 rows of 3-channel PALS webbing
Internal 3-channel elastic organization
Keyper™
Exterior Rear
One - 11 inch by 19 inch zippered compartment
with an internal loop field to hold 100 ounce/3L
water reservoir or CCW
Breathable padding for comfort
Exterior Left
One - 9.5 inch by 3 inch diameter cord cinch pouch
designed for a 32 ounce/1L water bottle or radio
Exterior Right
Grab handle crafted of from 1 inch webbing
Anti-theft zipper capture system
D-Ring
3 channels of PALS webbing
Exterior Top
1.25 Inch integral padded grab handle
Main Interior Front
One - 16 inch by 8.5 inch slip pocket
One – 5 inch by 7 inch zippered mesh pocket
One - 11 inch by 7 inch zippered mesh pocket
Enclosure strap made from 1 inch webbing
with a side release buckle
Main Interior Rear
One - 7.5 inch by 10 inch slip pocket
One - 11.5 inch by 10 inch slip pocket
One 18 inch by 10 inch slip pocket with 10.5 inch
by 7 inch internal loop field for CCW
Enclosure strap made from 1 inch webbing
with quick release buckle