First Aid Kits, Medical Kits and Survival Kits for Sale
Shop Camp Live offers first aid kits and medical supplies for sale that are specifically made for camping and backpacking. Designed for medical emergencies when on or off the trail, these kits, assembled by emergency survival experts, contain everything from blister prevention to hospital-grade emergency wound care. Whether you are shopping for a first aid kit for the car, searching for a high-performance just-in-case kit, or just running wild outdoors, buy your camping and backpacking medical gear here.
Professional Ultralight/Watertight Pro First Aid Kits for Sale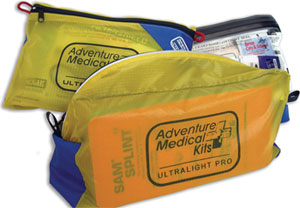 Professional Ultralight/Watertight Pro First Aid Kit
$89.95
Adventure Medical
Professional Ultralight/Watertight Pro First Aid Kits for sale are made by Adventure Medical. These super lightweight, waterproof kits are ideal for backpacking and camping in wet conditions and climates. They feature an assortment of first aid items. They have a detachable Ultralight/Watertight bag which is ideal for short trips away from base camp. These first aid kits are rated for use by one to two women with trip duration of one to seven days. The Professional Ultralight/Watertight Pro First Aid Kit was originally designed for and solely used by Yosemite Mountain Guides. They are ideal for first aid needs when a light, fast and waterproof pack is necessary. They measure a highly portable 10.25 by 7.5 by 5.5 inches and weigh only 1 pound 12 ounces. These kits include professional grade medical supplies such as wound care essentials and wraps and bandages to support fractures and sprains. They also include tools to safely perform CPR. The major benefit of these portable first aid kits is their highly waterproof properties. The inner DryFlex bag means interior items remain dry in all climates and conditions. For a light weight and waterproof first aid kit, buy the Professional Ultralight and Watertight First Aid Kit by Adventure Medical for $89.95.
First Aid and medical supplies included with are the following (contents may vary slightly):
Bandage Materials
5 - Bandage, Adhesive, Fabric, 1" x 3"
2 - Bandage, Conforming Gauze, 3"
1 - Bandage, Elastic, Velcro Closure, 3"
2 - Dressing, Gauze, Sterile, 2" x 2", Pkg./2
4 - Dressing, Gauze, Sterile, 3" x 3", Pkg./2
2 - Dressing, Non-Adherent, Sterile, 3" x 4"
Bleeding
2 - Gloves, Nitrile (Pair), Hand Wipe
2 - Trauma Pad, 5" x 9"
Blister / Burn
2 - Moleskin, Pre-Cut & Shaped (14 pieces)
CPR
1 - CPR Face Shield
1 - CPR Pocket Mask, Laerdal
Fracture / Sprain
1 - Bandage, Triangular
1 - C-Splint™, 4" x 36"
Instrument
1 - EMT Shears, 4"
1 – Pencil
2 - Safety Pins
1 - Splinter Picker/Tick Remover Forceps
Medical Information
1 - Comp. Guide to Wilderness & Travel Medicine
1 - Patient Assessment Form
Medication
4 - Antihistamine (Diphenhydramine 25 mg)
2 - Aspirin (325 mg), Pkg./2
4 - Diamode (Loperamide HCI 2 mg), Pkg./1
2 - Ibuprofen (200 mg), Pkg./2
Other
3 - DRYFlex™ Waterproof Bag, 6" x 9"
Survival Tools
1 - Emergency Reflective Blanket, 56" x 84"
Wound Care
6 - Antiseptic Wipe
1 - Syringe, Irrigation, 10 cc, 18 Gauge Tip
1 - Tape, 1" x 10 Yards
1 - Skin Tac™ Topical Adhesive Wipe
4 - Triple Antibiotic Ointment, Single Use
1 - Wound Closure Strips, 1/4" x 4", Pkg./10