Camping Cookware, Portable Stoves and Water Filtration Systems for Sale
ShopCampLive.com offers camping cookware, portable stoves and water filtration gear for sale. From comfort camping items like Esbit Coffee Makers to essential Katadyn water purification kits, be prepared for your next outdoor adventures and camping trips. Buy your campfire cooking and be ready to camp right.
Frontiersman Bear Safe Bear Resistant Barrels for Sale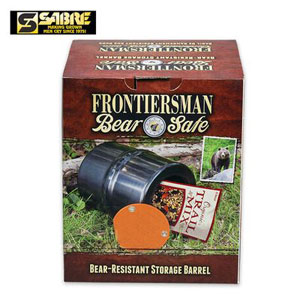 Frontiersman Bear Safe Bear Resistant Barrel
$59.95


Frontiersman Bear Safe for sale is a must have food container for campers and backpackers alike. The concept behind the Frontiersman Bear Safe is to limit the access bears have to food at camp. By using these 8.5 inch by 8.5 inch by 10 inch storage containers, the bears availability of food at camp is decreased thus the probability of having an encounter with bears is also reduced. The Frontiersman Bear Safe meets safe food storage requirements set forth by the U.S. Forest Service. These storage containers weigh 35.27 ounces. Keep your food and family safe while camping and backpacking and buy the Frontiersman Bear Safe for $59.95.
Need Assistance? Contact Our Support Team Via Email 24/7

© 2014-2021 ShopCampLive.com - All Rights Reserved