Camping Knives, Survival Knives, Ropes and Fire Starters for Sale
Shop Camp Live offers survival knives and rope for sale from some of the most popular manufacturers of survival equipment. Many of these items are essential when camping and backpacking. We also offer new items from the Bear Grylls outdoor survival series of camp necessities. Whether you are shopping for a 200 foot rappelling rope, a new survival knife or just running wild outdoors, buy your camping and backpacking gear here.
100 Foot Utility Ropes for Sale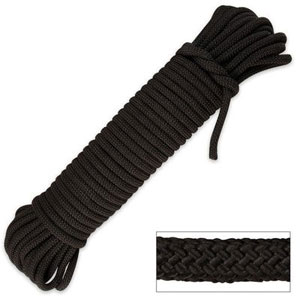 100 Foot Utility Rope
$29.95


100 Foot Utility Rope for sale is a basic but highly versatile companion for camping and backpacking. These ropes measure 100 feet and are 3/8th inch thick. The 100% nylon core features a 100% Polypro sleeve. These utility ropes have a 120 pound working load. They have a tensile strength of 1200 pounds. These utility ropes are proudly made in the US. For a general all-purpose camping rope, buy the 100 Foot Utility Rope for $29.95.
Need Assistance? Contact Our Support Team Via Email 24/7

© 2014-2021 ShopCampLive.com - All Rights Reserved