Hammocks, Rainfly's and Mosquito Nets for Sale
Shop Camp Live offers hammocks, rainfly's and mosquito nets for sale from some of the most popular manufacturers. These items are designed to provide a more comfortable experience when camping and backpacking. Whether you are shopping for a cozy Hennessy Hammock, preparing for combat against mosquitoes or just running wild outdoors, buy your camping essentials here.
Snugpak Tropical Hammocks for Sale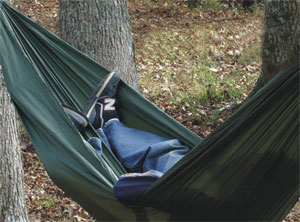 Snugpak Tropical Hammock
$49.95


This Tropical Hammock for sale is ideal for outdoor sleeping without the burden of a bulky tent. These hammocks are 9 feet by 4 foot 5 inches and are rated with a weight capacity of up to 400 pounds. Designed by Snugpak, they conveniently compact to a mere 7.5 by 7 by 2.5 inch and weigh only 14 ounces. They can be folded away into the included practical stuff bag. They are crafted of parachute nylon material that is both remarkably sturdy and exceptionally lightweight. For additional durability, Snugpak used triple stitched seams. The Snugpak Tropical Hammock also includes two steel carabineers for attaching it to the Suspension Attachment System. The Suspension Attachment System is manufactured of 550 cords with knots spaced to permit for an assortment of attachment points and distances from the tree or post to the hammock. There is also a zippered storage pouch with a carrying handle. For a portable and compact sleeping option, buy the Tropical Hammock made by Snugpak for $49.95.
Need Assistance? Contact Our Support Team Via Email 24/7

© 2014-2021 ShopCampLive.com - All Rights Reserved