Camping Tents, Tactical Tents, Tactical Shelters and Cabin Tents for Sale
ShopCampLive.com offers tents and shelters for sale from tactical all weather tarps to tents from Eureka. Prepare for outdoor adventures and camping trips with high performance fly first pitch type tent. Snugpak, an industry leader in high performance shelters and tents offers exceptional protection specifically designed for military and tactical use. Buy the right shelter, tarp or tent for your camping needs.
Down Range Tactical Tents for Sale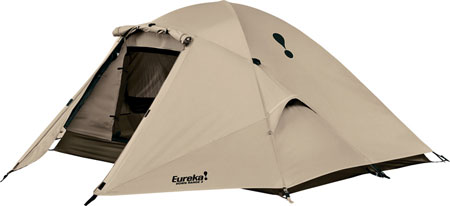 Down Range 2 Tactical Tents
$299.95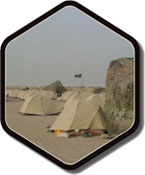 Down Range Tents for sale are modeled after the tactical shelters used for TCOP and combat. Made by Eureka, this popular military and tactical series of tents are durable and feature a 7000 series aluminum frame. The Down Range 2 Tents sleep two people and have 38.7 square feet of tent area with a center height of 3 feet 9 inches. The floor size is 8 feet by 5 feet with a pack size of 7 inches by 19 inches and a minimum weight of 8 pounds 6 ounces. The fly and walls are manufactured of tough, ultra durable polyester rip stop with a 2000mm coating for maximum weather protection. Eureka used a desert sand and dirt color palette for improved tactical operational use. The tough floor is made of 75-D nylon taffeta with a 3000mm coating and a forward operating base that protects gear and strengthens the overall structure for durability and harsh conditions. These tents are rated for hard usage and include a repair kit for damage in the field. The repair kit has 8 inch by 6 inch swatches of fly, floor and tent material. These performance tactical backpacking tents have a system of vectored fly-to-tent body pullouts. This system increases stability while enhancing ventilation. By maintaining the gap between the tent body and the fly excellent air circulation is achieved. The down range has adjustable vestibule stake outs which allow for versatility in stake placement and tensioning. There are two doors and two vestibules. The front vestibule measures 17 sq ft with the rear vestibule of the Down Range 2 measuring 7 sq feet. The two hooded vents in the fly and two windows maintain comfortable ventilation while keeping the camper protected from the elements and bugs. Both the vestibules and doors can be configured for high and low venting. The front vestibule can be configured for multiple uses and even customized to be used as an awning. These tactical military tents feature snivel locks with a slide release buckle to prevent the vestibule from opening during strong winds. The tactical Down Range tents feature four storage pockets. Exceptional for high performance, tactical operations buy the Down Range 2 Tents for $299.95.