Camping Cookware, Portable Stoves and Water Filtration Systems for Sale
ShopCampLive.com offers camping cookware, portable stoves and water filtration gear for sale. From comfort camping items like Esbit Coffee Makers to essential Katadyn water purification kits, be prepared for your next outdoor adventures and camping trips. Buy your campfire cooking and be ready to camp right.
Vacuum Food Jars for Sale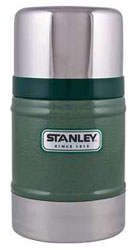 Vacuum Food Jar
$39.95


Stanley Classic Food Jar for Sale is naturally BPA-free. These sturdy storage containers are perfect for camping and backpacking with their featured all stainless steel construction. They have a durable rust proof finish. The protective, double wall construction is tough enough to handle rough use without losing function. The food jar features vacuum insulation that can keep beverages and food hot or cold for up to 12 hours. The insulated lid can also be used as a 12 ounce bowl. The stopper rotates and pours from front to back. Made by Stanley, this green leak proof bottle is residue free and contains no liners or coatings. For a functional piece with a timeless design, buy the Classic Vacuum Food Jar for $39.95.
Need Assistance? Contact Our Support Team Via Email 24/7

© 2014-2021 ShopCampLive.com - All Rights Reserved