Camping and Hiking Gear, Rucksaks, Gearpacks and Backpacks for Sale
Shop Camp Live offers rucksacks, gearpacks and backpacks for sale are from some of the most popular manufacturers. They are designed to provide functional and comfortable ways to carry gear while camping and backpacking. From Maxpedition, Snugpak, 5.11 Tactical and others, these bags are filled with organizational pockets and pouches to make finding your gear easy. For hauling survival essentials when you are running wild outdoors, buy your gear here.
5.11 Tactical Rush 72 Backpacks for Sale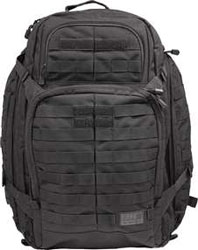 5.11 Tactical Rush 72 Backpack
$169.95


The RUSH 72 Backpacks for sale are 72-hour tactical bags made of durable and water resistant 1000D nylon. They are made by 5.11 Tactical, an industry leader in high performance and functional gear bags. The RUSH 72 Backpacks have a capacity of 3342 cu in, 55 liters. The main storage area of the RUSH 72 Backpack measures 23 by 13.5 by 8.5 inches. These backpacks feature a fleece-lined sunglass pocket and an internal hydration pocket that has hangers and toggles. The RUSH 72 backpack has dual-zippered front and main sections with molded grip pulls. These 72-hour bags have an admin organization pocket, an easily accessible shove-it pocket and numerous integrated organizational pockets. The RUSH 72 backpacks have a contoured yoke-design shoulder strap system with a grab-and-go handle. For comfort during carry, these backpacks have adjustable dual density closed-cell foam shoulder straps. They also have a cinching waist strap along with the dual compression straps. The RUSH 72 has an integrated drainage grommet and self-repairing YKK zippers. They have a generous Molle and Backup Belt System compatible web platform which means gear is always within close proximity. For a highly versatile, high performance gear pack, buy the RUSH 72 Backpack for $169.95.
Need Assistance? Contact Our Support Team Via Email 24/7

© 2014-2021 ShopCampLive.com - All Rights Reserved