Camping and Hiking Gear, Rucksaks, Gearpacks and Backpacks for Sale
Shop Camp Live offers rucksacks, gearpacks and backpacks for sale are from some of the most popular manufacturers. They are designed to provide functional and comfortable ways to carry gear while camping and backpacking. From Maxpedition, Snugpak, 5.11 Tactical and others, these bags are filled with organizational pockets and pouches to make finding your gear easy. For hauling survival essentials when you are running wild outdoors, buy your gear here.
5.11 Tactical TRIAB 18 Backpacks for Sale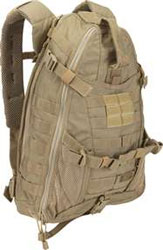 5.11 Tactical TRIAB 18 Backpack
$129.95


The TRIAB 18 Backpacks for sale are designed to provide both functional performance and organized storage. They are made by 5.11 Tactical, an industry leader in high performance and functional gear bags. These bags are ideal for military operations and tactical missions. These versatile one strap sling bags feature a main compartment that measures 20 by 14 by 7 inches and features multiple admin pockets for accessory storage. The TRIAB 18 has padded compression straps and a reinforced grab-and-go handle for rapid deployment. They have a rear slot pocket that can be used to carry a hydration pack or an armor plate. The TRIAB 18 offers versatility in a tough, sturdy, and lightweight package. They feature a covert TacTec rapid access pocket. These sling bags have a double-zip shove-it pocket for expandable storage. The extensive wrap around web platform means the TRIAB 18 Backpacks are Molle and SlickStick compatible. For a comfortable carry, these backpacks have an adjustable padded shoulder strap. For a highly versatile, high performance pack, buy the tactical TRIAB 18 Backpack for $129.95.
Need Assistance? Contact Our Support Team Via Email 24/7

© 2014-2021 ShopCampLive.com - All Rights Reserved