Camping Cookware, Portable Stoves and Water Filtration Systems for Sale
ShopCampLive.com offers camping cookware, portable stoves and water filtration gear for sale. From comfort camping items like Esbit Coffee Makers to essential Katadyn water purification kits, be prepared for your next outdoor adventures and camping trips. Buy your campfire cooking and be ready to camp right.
Sawyer Complete 2 Liter Water Filtration Systems for Sale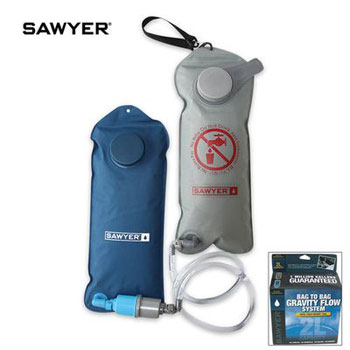 Sawyer Complete 2 Liter Water Filtration System
$99.95


Sawyer 2 Liter Dual Bag Complete Water Filtration system for sale creates 2 liters of clean, potable drinking water in as little as 1.5 minutes. The hollow fiber filter removes particles, protozoa and bacteria down to 0.1 micron in size, including giardia, salmonella and cryptosporidium. Using science and rigorous testing, these Sawyer products are some of the most advanced and easy to use water treatment solutions. The convenience of these gravity filtration products means a pump is no longer necessary. Just fill the grey reservoir with unfiltered water, connect the filter and filter hose and allow gravity to fill the blue reservoir with drinking water. The clean water in the blue reservoir is now a clean water source that can even be conveniently hung. The Sawyer 2 Liter Dual Bag Complete System includes a faucet adapter which can be used as tool to provide a more thorough backwash via a home faucet. The Sawyer filter is also fully field maintainable to ensure a fast flow of water. This water filtration system has the benefit of being both simple to set up and portable, weighing just 12 ounces. The Sawyer Complete water filtration system is rated at a million gallons, which means virtually never needing to replace the filter cartridge. The Sawyer 2 Liter Dual Bag Complete System includes a 2 liter grey reservoir marked dirty, a 2 liter blue reservoir marked clean, a Sawyer PointONE hollow fiber membrane filter, a faucet adapter, a drink tube, a quick release hose adapter and instructions for use. For fast clean drinking water while camping, backpacking, or in conditions where the water can't be trusted, buy the Sawyer Complete 2 Liter System for $99.95.