First Aid Kits, Medical Kits and Survival Kits for Sale
Shop Camp Live offers first aid kits and medical supplies for sale that are specifically made for camping and backpacking. Designed for medical emergencies when on or off the trail, these kits, assembled by emergency survival experts, contain everything from blister prevention to hospital-grade emergency wound care. Whether you are shopping for a first aid kit for the car, searching for a high-performance just-in-case kit, or just running wild outdoors, buy your camping and backpacking medical gear here.
Grylls Ultimate Survival Kits for Sale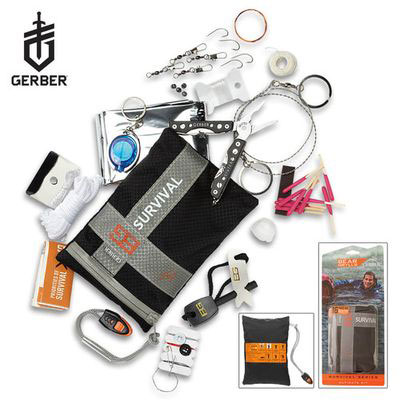 Grylls Ultimate Survival Kit
$49.95
Adventure Medical
Ultimate Survival Kits are made by Gerber and endorsed by Bear Grylls. This set includes 16 pieces to prepare you for any time it is man vs wild. The Ultimate Survival Kits are small and compact enough to fit in your gear sack. This set conveniently comes in a waterproof RipStop nylon storage bag that features a waterproof zipper. This Bear Grylls Ultimate Survival Kit includes a Gerber Miniature Multi-tool which features needle nose pliers, wire cutters, a fine edge knife, Phillips screwdriver, small and medium flat drivers, lanyard ring, bottle opener and tweezers. Also included in the Bear Grylls Ultimate Survival Kit is a signaling mirror, miniature light, survival blanket, snare wire, hand saw, emergency cord, waxed thread, fire starter, waterproof matches, cotton ball - fire tinder, fishing kit, sewing kit, lanyard whistle and land to air rescue instructions. This set also includes a pocket guide containing some of the survival essentials according to Bear Grylls himself. The guide is called the Priorities of Survival. For you next adventure, buy the Ultimate Survival Kits made by Gerber and endorsed by Bear Grylls for $49.95.