Camping Cookware, Portable Stoves and Water Filtration Systems for Sale
ShopCampLive.com offers camping cookware, portable stoves and water filtration gear for sale. From comfort camping items like Esbit Coffee Makers to essential Katadyn water purification kits, be prepared for your next outdoor adventures and camping trips. Buy your campfire cooking and be ready to camp right.
Katadyn Pocket Microfiliters for Sale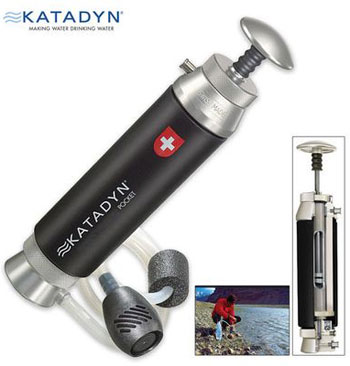 Katadyn Pocket Microfiliter
$369.95


Katadyn Pocket Microfilter water filter for sale is from the Endurance Series of products. This tough water filter is ideal for backpacking, camping, tactical use and military operations. They are manufactured of durable materials and designed for long term continuous use even in severe conditions. These classic microfilters feature a silver impregnated ceramic element that offers superior effectiveness against bacteria and protozoa. As one of the most popular and best-selling emergency preparedness water filtration devices, the Katadyn Pocket Microfilter can filter up to one quart per minute. Although this compact microfilter is only 10 inches and weighs only 20 ounces, don't let the size fool you. It has a cartridge capacity of up to 13, 000 gallons through its cleanable 0.2 micron ceramic depth filter. The small and compact design of the Katadyn Pocket Microfilter water filter makes this filter popular with the military. This set also includes a carry bag, a bottle clip, a cleaning pad and instructions for use. When water filtration is a necessity and portability is not optional, buy the Katadyn Pocket Microfilter water filter for $369.95.
Need Assistance? Contact Our Support Team Via Email 24/7

© 2014-2021 ShopCampLive.com - All Rights Reserved