Sleeping Bags and Sleeping Mats for Sale
ShopCampLive.com offers sleeping bags and sleeping mats for sale for tactical extreme weather use. Prepare for outdoor adventures and serious camping trips with high performance sleeping bags from Snugpak, like the Softie Series, the Sleeper Series and Special Forces bivvy bags. Try out Multimats tactical line of foam and self-inflating sleep mats. Buy this tactical and high performance sleeping gear for comfortable camping.
Snugpak Stratosphere Bivy Shelter for Sale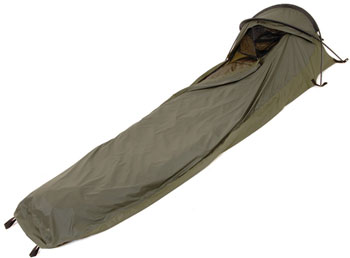 Snugpak Stratosphere Bivy Shelter
$169.95


Stratosphere Bivy Shelter for sale is ideal for tactical use, military operations, backpacking and camping. This high performance tent is made by Snugpak. While the word bivy may be spelled in different ways, the exceptional performance of Snugpak shelters is one of a kind. The Stratosphere is a super compact, single person shelter that features many of the characteristics of a standard tent. It packs into its own compression sack and is supplied with seven ultra lightweight Y type stakes and pegs. The lightweight aluminum poles have screw locks tips and are designed to create a canopy around the head and shoulders. This design allows for movement and circulation while still allowing for maximum protection from the elements. The Stratosphere Bivy also has a full length side zipper and a roll away mosquito net in the front of the hood and meshed ventilation sections at the back. The top fabric is 50D nylon RipStop with a 5000mm waterproof polyurethane coating. The bottom fabric of this tactical shelter is extraordinary 210T nylon with an amazing 8000mm waterproof polyurethane coating. Built to withstand severe weather, the Stratosphere has fully tape sealed seams. The small pack size makes this portable shelter even more versatile measuring in at a compact pack size of 12 inches by 5 inches. Prepared to be an emergency shelter or survival tent, the weight including the poles, pegs, and compression sack of the Stratosphere Bivy is 39 ounces. The Stratosphere is 90 inches by 37 inches by 42 inches in all. For a waterproof yet breathable, survival tent, buy the Stratosphere Bivy Shelter for $169.95.
Need Assistance? Contact Our Support Team Via Email 24/7

© 2014-2021 ShopCampLive.com - All Rights Reserved