Camping Cookware, Portable Stoves and Water Filtration Systems for Sale
ShopCampLive.com offers camping cookware, portable stoves and water filtration gear for sale. From comfort camping items like Esbit Coffee Makers to essential Katadyn water purification kits, be prepared for your next outdoor adventures and camping trips. Buy your campfire cooking and be ready to camp right.
ETA Express Spider Stoves for Sale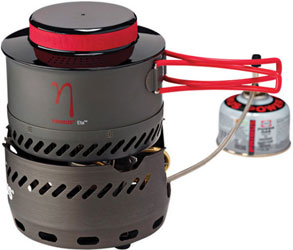 ETA Express Spider Stove
$119.95


ETA Express Spider Camping Stove for sale is extremely durable, sturdy and flexible. It is one of the lightest hose-mounted gas stoves available. The Express Spider is designed to suit the cooking needs of one to two campers. The gas burner is 2000 watt with a 7000 BTU output. These stoves feature ETA technology, which provides better fuel efficiency. This ETA Express Spider set includes a 1 liter pot with an easy grip lid that can also be used as a colander. The Express Spider is manufactured by Primus and features a Piezo igniter which means matches are not essential. These stoves feature windscreen and a low center of gravity which increase the stability of the Spider. These stoves burn up to 119 minutes per 100 gram gas cartridge. The gas cartridge not included. For a lightweight camping cooking solution, buy the ETA Express Spider for $119.95.
Need Assistance? Contact Our Support Team Via Email 24/7

© 2014-2021 ShopCampLive.com - All Rights Reserved