First Aid Kits, Medical Kits and Survival Kits for Sale
Shop Camp Live offers first aid kits and medical supplies for sale that are specifically made for camping and backpacking. Designed for medical emergencies when on or off the trail, these kits, assembled by emergency survival experts, contain everything from blister prevention to hospital-grade emergency wound care. Whether you are shopping for a first aid kit for the car, searching for a high-performance just-in-case kit, or just running wild outdoors, buy your camping and backpacking medical gear here.
M17 Medic Bags for Sale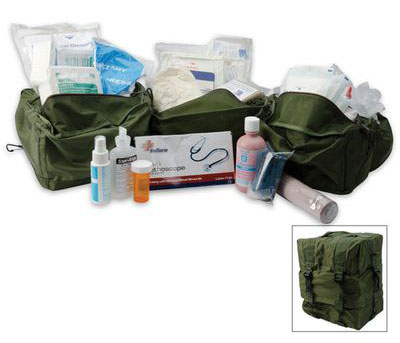 M17 Medic Bag
$179.95
Elite First Aid
M17 Medic Bag for sale is manufactured by Elite First Aid and contains over 300 supplies. These GI style first aid kits have been used by combat trained medics. The convenient to carry bags measure 16 by 10 by 13 inches. The M17 Medic Bag are Olive Drab, OD green, color nylon packs that feature both back straps and a carry handle. The interior contents are secured by using the adjustable cinch straps to close the bag. The M17 Medic Bag features a threefold design which rolls open. There are six interior pockets which contain over 300 first aid items. There is an additional exterior pocket which is closed via a Velcro flap. The first aid supplies included with the M17 Medic Bag are an assortment of medications to relieve pain, inflammation and common allergies. Wraps and bandages are included to help immobilize and help support fractures and sprains. It is better to have an emergency medical kit than to need one. Elite First Aid works with many tactical and military suppliers and they pride themselves on their commitment to providing the best first aid and emergency kits at competitive prices. For first aid in the field, buy the M17 Medic Bag for $179.95.
First Aid Supplies included with the M17 Medic Bag are the following (Contents may vary slightly):
5 - Skin and Eye Wash
1 - Hand Sanitizer
1 - Hand Soap
1 - Calamine Lotion - 6 oz
1 - Burn Spray
1 - SAM/Universal Splint
4 - Multitrauma Dressing
2 - BleedStop Bandages
4 - Bandage Gauzes - 2" x 5 yds
2 - Elastic Bandages - 6"
12 - Elastic Bandages - 2"
4 - Sterile Pads - 4" x 4"
10 - Sterile Pads - 2" x 2"
10 - Abdominal Pads - 5" x 9"
2 - Eye Pads
2 - Triangular Bandage
100 - Bandage Strips - 1" x 3"
5 - Butterfly Strips
10 - Bandage Strips - 2" x 3"
10 - Knuckle Bandages
3 - Instant Ice Packs
1 – Stethoscope
1 - Lip Treatment
1 - EMT Shears - 7.5"

1 - Skin Probe
1 – Tweezers
1 - Petroleum Jelly
1 - Scalpel Handle #3
2 - Scalpel Blades
1 - Pen Light
2 - Suture Set
6 - Safety Pins
2 - Pill Bottles
1 - Latex Examination Gloves (pair)
14 - Pain Relievers
1 – Tourniquet
2 - Irrigation Syringes
4 - First Aid Cream
4 - Triple Antibiotic Cream
2 - Burn Aid Package
5 - Adhesive Tape Roll
15 - Alcohol Wipes
15 - Iodine Wipes
15 - Antiseptic BZK Wipes
15 - Clean Wipes
6 - After Bite Wipes
1 - EFA First Aid Book
Need Assistance? Contact Our Support Team Via Email 24/7

© 2014-2021 ShopCampLive.com - All Rights Reserved