Camping Knives, Survival Knives, Ropes and Fire Starters for Sale
Shop Camp Live offers survival knives and rope for sale from some of the most popular manufacturers of survival equipment. Many of these items are essential when camping and backpacking. We also offer new items from the Bear Grylls outdoor survival series of camp necessities. Whether you are shopping for a 200 foot rappelling rope, a new survival knife or just running wild outdoors, buy your camping and backpacking gear here.
150 Foot SWAT Rappelling and Rescue Ropes for Sale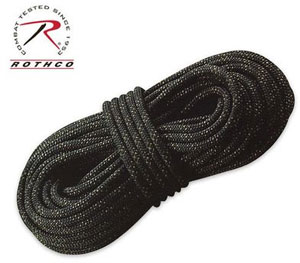 150 Foot SWAT Rappelling and Rescue Rope
$219.95


150 Foot SWAT Rope for sale is made for rappelling and rescue. This rope is an ideal survival tool for camping and backpacking. For optimum durability, these ropes are manufactured of high tensile strength nylon cord. In order to provide adequate resistance to high temperatures, abrasion and chemicals, the rope features a braided Polysheath. These high quality static ropes have been issued to G.I. and Civilian Tactical Teams, Rescue Teams and military units. Proudly manufactured in the US, these static ropes exceed the quality standards set forth by Osha, UIAA, Ansi and NFPA. They have a 7/16th inch diameter and measure 150 feet overall with 7660 lb test. 150 Foot SWAT Rappelling and Rescue Rope features UV resistance and has been pre-shrunk in an effort to reduce shrinkage. An ideal tactical tool for camping, buy the 150 Foot SWAT Rappelling and Rescue Rope for $219.95.
Need Assistance? Contact Our Support Team Via Email 24/7

© 2014-2021 ShopCampLive.com - All Rights Reserved