Sleeping Bags and Sleeping Mats for Sale
ShopCampLive.com offers sleeping bags and sleeping mats for sale for tactical extreme weather use. Prepare for outdoor adventures and serious camping trips with high performance sleeping bags from Snugpak, like the Softie Series, the Sleeper Series and Special Forces bivvy bags. Try out Multimats tactical line of foam and self-inflating sleep mats. Buy this tactical and high performance sleeping gear for comfortable camping.
Snugpak Softie Elite 3 Mummy Style Sleeping Bag for Sale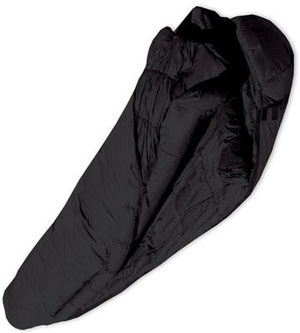 Snugpak Softie Elite 3 Mummy Style Sleeping Bags
$159.95


Softie Elite 3 Mummy Sleeping Bags for sale are manufactured by Snugpak. They are highly compressible and ideal for tactical use, military operations and high performance backpacking and camping. They are black colored, mummy design tactical sleeping bags with a snugfit hood. They are 86 inches long with a 65 inch chest and have an anti-snag, two-way zipper. The Softie Series sleeping bags feature an Extended Panel System, EPS. The EPS works in two ways. During normal use, the EPS creates a thick zipper baffle that protects the sleeper from drafts. Alternatively, simply unzip and re-zip into the main zipper to provide extra room and increased air circulation for cooler sleeping when needed. The Softie Elite 3 Sleeping Bags also feature a chest pocket for easy access to nighttime gear. They are 56 ounces with a compressed pack size of 9 inches by 10 inches. The Softie Elite features a shell made of Paratex Micro, a tough lightweight fabric that is highly windproof and water repellant. This heavy duty, close weave construction means that the Paratex Micro fabric is extraordinarily hard wearing while remaining soft to the touch. To provide additional comfort, Paratex Micro fabric wicks away sweat while still remaining highly breathable. The lining of the Softie Elite 3 features Paratex Light fabric. Paratex Light is lightweight, highly windproof, water repellant fabric that wicks away sweat while also remaining highly breathable. The Softie Elite has a reinforced foot lining and hanging dry tabs. Snugpak also incorporates Reflectatherm in the design of these sleeping bags. Reflectatherm is a highly breathable, metalized fabric that is designed to reflect heat and retain warmth. While it adds little to the carry weight of the Softie Elite, it adds at least 15% more warmth. It is coated with metallic dots that help to trap heat, ensure excellent weight to warmth ratio while still remaining breathable. These tactical high performance sleeping bags are comfortable at 23F degrees with a low of 14F degrees. These temperature ratings are based on experience and feedback and assume the user is sleeping lightly clothed, in a tent or sleeping mat. Therefore, individual temperature preferences may vary per person. The Softie Elite 3 includes a compression stuff sack for maximum portability. For a high performance mummy style sleeping bag made by Snugpak, buy the Softie Elite 3 in Black for $159.95.