Camping Knives, Survival Knives, Ropes and Fire Starters for Sale
Shop Camp Live offers survival knives and rope for sale from some of the most popular manufacturers of survival equipment. Many of these items are essential when camping and backpacking. We also offer new items from the Bear Grylls outdoor survival series of camp necessities. Whether you are shopping for a 200 foot rappelling rope, a new survival knife or just running wild outdoors, buy your camping and backpacking gear here.
Bear Grylls Canteens for Sale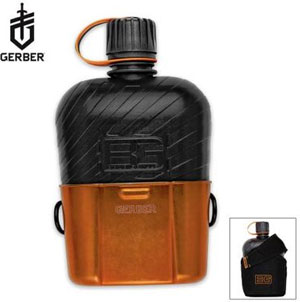 Bear Grylls Canteen
$34.95


Bear Grylls Canteen and Cup Kit for sale is from his outdoor survival series of camping essentials. Whether backpacking with celebrities or running wild alone, Bear Grylls has a unique blend of survival skills and common sense that is evident in this product line. The Bear Grylls Canteen features a classic military canteen and nesting cup design, updated with contemporary construction. This modern day result is a BPA-free water bottle with a 1L capacity. They are ideal for camping and backpacking weighing only 12.5 ounces. The canteens feature a tight fitting nylon sheath with a belt loop to keep them out of the way when needed. The Bear Grylls Canteen measures 10 by 6 by 3 inches and features a leak proof, lock top for those times when facing rugged terrain. The exterior of the Bear Grylls Canteen is textured in order to curb spills while wearing gloves. This set also includes a dual handled aluminum cup. This food-grade aluminum cup can be used to boil water and features heat resistant silicone handles. Included with the canteen and aluminum cup kit, is a copy of the pocket guide, Priorities of Survival, written by Bear Grylls. Increase the chance of survival when you are running outdoors in the wild, buy the Bear Grylls Canteen Set for $34.95.
Need Assistance? Contact Our Support Team Via Email 24/7

© 2014-2021 ShopCampLive.com - All Rights Reserved