Hammocks, Rainfly's and Mosquito Nets for Sale
Shop Camp Live offers hammocks, rainfly's and mosquito nets for sale from some of the most popular manufacturers. These items are designed to provide a more comfortable experience when camping and backpacking. Whether you are shopping for a cozy Hennessy Hammock, preparing for combat against mosquitoes or just running wild outdoors, buy your camping essentials here.
GI Style Jungle Hammocks for Sale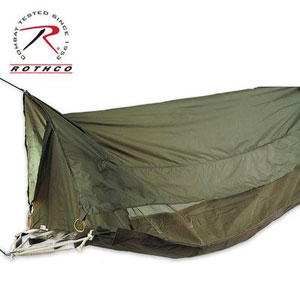 GI Style Jungle Hammock
$69.95


Jungle Hammock GI Style for sale provides an elevated shelter from outside conditions. They are rated for use for up to 220 pounds. These hammocks provide an innovative option for sleeping outdoors. They eliminate the need to search for a level campsite. There is no longer uncomfortable sleeping on rocks, roots or the cold hard ground. This shelter is suspended above all of that. The Jungle Hammock is made by Rothco. They measure 78 by 20 by 30 inches. These hammocks have mesh mosquito netting and nylon construction. These hammocks have a coated roof and heavy canvas floor. They also include attached ropes and clews. The GI Style Jungle Hammock is olive drab colored. These hammocks are designed for light inclement weather. Buy the GI Style Jungle Hammock for $69.95.
Need Assistance? Contact Our Support Team Via Email 24/7

© 2014-2021 ShopCampLive.com - All Rights Reserved