Camping Tents, Tactical Tents, Tactical Shelters and Cabin Tents for Sale
ShopCampLive.com offers tents and shelters for sale from tactical all weather tarps to tents from Eureka. Prepare for outdoor adventures and camping trips with high performance fly first pitch type tent. Snugpak, an industry leader in high performance shelters and tents offers exceptional protection specifically designed for military and tactical use. Buy the right shelter, tarp or tent for your camping needs.
Timberline 2 Person Tents for Sale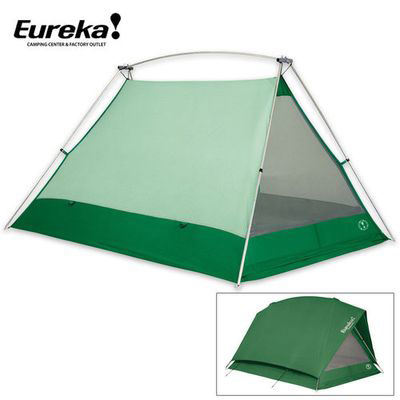 Timberline 2 Person Tents
$159.95


Timberline 2 Tents for sale feature the classic A-frame design. These popular tents are suited for two campers in less demanding conditions and an ideal choice for novice or occasional wilderness campers and backpackers. As one of the first free-standing tents on the market, the Timberline series of tents by Eureka is a long time favorite of the Boy Scouts, backpackers and campers. These three season tents sleep two campers and have a center height of 3 ft 6 inches. The classic five pole A-frame style tent features a free-standing aluminum frame for quick and easy assembly. The Timberline 2 has a large door with a zippered window and a zippered window in the back that can be opened for ventilation and closed for privacy. The triangular door opens from the side. The walls are crafted of 75d polyester. Both the fly and the floor are made of 75d polyester with an 800mm coating for water resistance. To protect against standing or splashing water, these tents have a bathtub style floor that wraps up the sides of the tent. The floor size is 7 feet 2 inches. The Timberline 2 offers two campers 38 sq ft of tent area in a pack size of 6 inches by 24 inches with a minimum weight of 5 pounds 13 ounces. A great choice for light camping or backpacking, buy the classic Eureka made Timberline 2 Person Tent for $159.95.
Need Assistance? Contact Our Support Team Via Email 24/7

© 2014-2021 ShopCampLive.com - All Rights Reserved