Camping and Hiking Gear, Rucksaks, Gearpacks and Backpacks for Sale
Shop Camp Live offers rucksacks, gearpacks and backpacks for sale are from some of the most popular manufacturers. They are designed to provide functional and comfortable ways to carry gear while camping and backpacking. From Maxpedition, Snugpak, 5.11 Tactical and others, these bags are filled with organizational pockets and pouches to make finding your gear easy. For hauling survival essentials when you are running wild outdoors, buy your gear here.
Snugpak Xocet 35 Rucksacks for Sale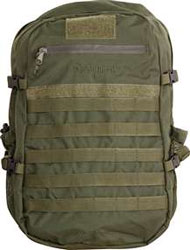 Snugpak Xocet 35 Rucksack
$89.95


Xocet 35 Rucksack for sale is manufactured by Snugpak. The Xocet 35 Rucksack features five rows of MOLLE webbing. These versatile and tactical bags can handle a capacity of 2135 cu in/35 Liters in the main compartment. The main compartment features an internal organizer for small items or tools. The rucksack weighs only 38 ounces in all. The main compartment measures 19 by 12 by 8 inches. The Xocet 35 Rucksack features a hydration sleeve with a routing port for the drink tube. These bags have a zippered storage pocket and an easily accessible front storage pocket. Both sides of the Xocet 35 feature mesh pockets with bungee cord tensioning, which is ideal for storing clothing or water bottles. There is a removable waist strap that can be secured in a hidden compartment when not in use. The Xocet 35 Rucksack features padded chest straps and an adjustable sternum strap. The Snugpak Xocet 35 has Velcro Strips for Flag and Unit patches as well as for Name and Rank tapes. For a great tactical gear bag, buy the Snugpak Xocet 35 Rucksack for $89.95.
Need Assistance? Contact Our Support Team Via Email 24/7

© 2014-2021 ShopCampLive.com - All Rights Reserved